Dear RadComms,
This week, RadComms turns three. On our third anniversary, we are asking for your help in shaping and resourcing what is next for the network.
For three years, we've been proud and eager to offer open-source access to resources like press lists, peer-driven communications trainings, and in-person meetups to connect with other social-change communicators. We do this because we know narrative change doesn't happen one organization at a time—and in the fight for justice, it doesn't benefit anyone to keep what we know proprietary or a secret. This is different from the status quo, and we pride ourselves on that. Continuing in this tradition of generosity and nonconformity, we need your support in taking RadComms to the next level.
This year, the RadComms leadership and fundraising teams developed a fundraising strategy generated from our member survey, more than 1,000 network conversations, and data from a discovery process. We got the feeling people in this network think the resources and support you receive here are valuable. So, we're asking:As an individual, would you be willing to give a sliding-scale contribution of $25–$100 a year in exchange for the resources you receive? If you can, click here, select "ReFrame: RadComms" from the dropdown menu, and give what you can.
As an organization or firm, would you build a line item for RadComms into your budget and contribute $1,000 or more annually to support the growth of this Network? If yes, please email us and let us know how much you can allocate.
Do you have recommendations for where we should be looking for resources to fund our work together? If yes, tell us where.
There are so many reasons this network is meaningful to me, and one experience, in particular, stands out.
When Micah Xavier Johnson shot and killed five Dallas police officers and injured nine others on July 7, 2016, onlookers began drawing a false connection between him and Black Lives Matter and the Movement for Black Lives. As the then–Director of Communications for Black Lives Matter Global Network and co-chair of the Communications Table of the Movement for Black Lives, I was obligated to articulate our communications response to what happened in Dallas and to the rumors that Johnson was among our ranks. I often look back on this moment awash with shame and regret because I didn't know where to start or what to say.
Up until that point, if I knew nothing else about communicating on behalf of social movements, it was that there is no one right way to do it. At no time during my tenure at BLM was I more aware of the range of difference in the political beliefs among movement members than when I sat down at my computer to eke out our collective response to the deaths of five police officers at the hands of a Black person. How do you balance illustrating the systemic threat police pose to Black communities while condemning Johnson's tactics? Johnson wasn't connected to us, and his frustration about unchecked police violence was shared by our members.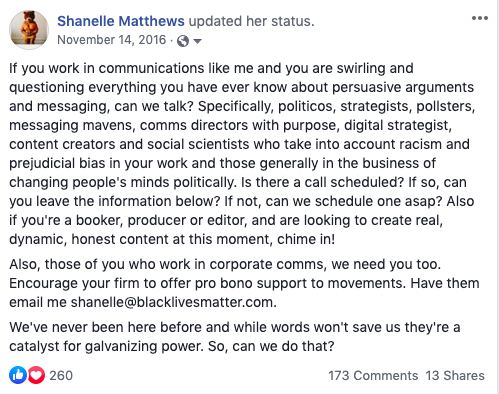 That is why after the 2016 election, I opened up to fellow organizers and communicators on Facebook with the most honest question I could ask: How do we address the fact that our values-based messaging has not been winning the progressive fight? I also wanted to know: How do we address the propaganda that is driving the erosion of our democracy and strengthening power for the ruling class? Something needed to radically change.
A hundred of us joined the first call on November 17, 2016—and became the first cohort of the Radical Communicators Network. Three years later, RadComms has become one of the most dynamic and innovative communities of practice for social-change communicators, and a hub for cutting-edge skill-building, values-aligned political education, and cross-movement collaboration. Together, with limited resources, this network has begun to close a gap in the field of strategic communications.
Since 2016, we have:
Democratically elected 8 Leadership Team membersHosted 15 #RadSessions, focusing on topics from LGBT-inclusive messaging to measuring cultural changeRan an inaugural UnConvening in 2017 with nearly 100 participants from across the networkFacilitated more than 1,000 online discussions, ranging from narrative power analysis to messaging from an abundance framework
Offered open-source access to resources like press lists, polling data, peer-driven communications trainings, and in-person meetups to connect with other social-change communicators
Grown to a network of nearly 1,200 from all corners of the United States and beyondHosted dozens of regional happy hours in Los Angeles, Oakland, NYC, and Columbus
Connected those in need of communications coaching with communications coaches all over the country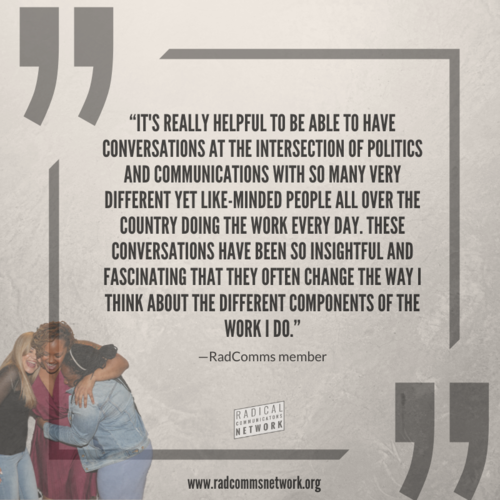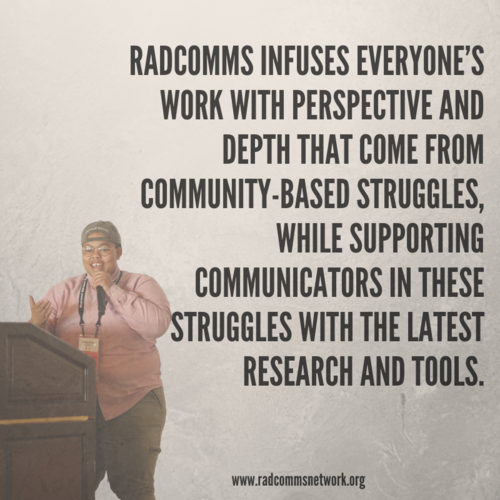 Yet, our recent member survey revealed that there is still much work to be done. More than 50 percent of social-change communicators have said they are isolated from each other, while more than 70 percent face limited capacity and resources. At a time when the underpinnings of democracy itself are being challenged globally, we cannot afford to lose the power of grassroots communicators.
Our role is critical: We're hope dealers, tasked with building political will in a prophetic vision of a world we have never experienced before. We are held to account by the social movements we serve, and we do not sacrifice principles or ethics for strategy. We not only deconstruct harmful narratives, but also propagate stories of liberation—the building blocks of narrative power.
We are the future of social-change communications. We believe the most important role strategic communications plays in social movements is to build narrative power, which, according to Rashad Robinson, changes "the norms and rules our society lives by."
Together, we have learned that narrative power is not built one person or one organization at a time—the global fight for social justice requires all of us. That is why, on the three-year anniversary of RadComms, we are asking for your help to shape and resource what is next for the network.
If you are still unsure whether you can or want to help resource this network (and even if you know you do), take 60 seconds and answer three brief questions to help us determine what membership structure works best for this network.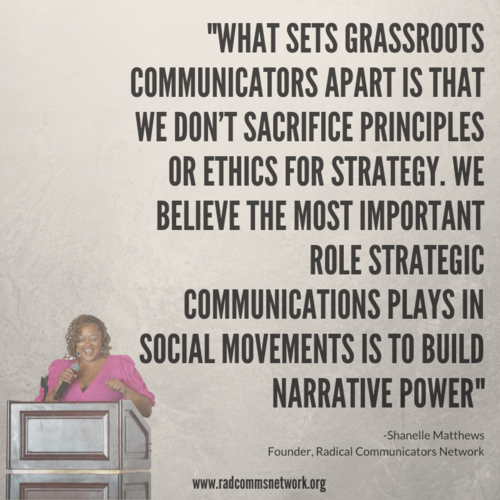 The money we are raising for the network would fund efforts to bring us closer together and increase our collective capacity. It would cover stipends for #RadSession speakers, a strategic planning process for our current and future work, a 2020 network convening, and a rapid-response fund to support urgent moments in our social movements.
As we look ahead to 2020—and more importantly, the next 20 years of demonstrations and demands—I ask myself, and I ask all of us: How can we position ourselves as partners in a global fight for freedom, choice, and democracy?
What I believe most deeply is that our network of mutuality is vital to answering this question. We invite you to stay on this journey with us as we take RadComms to the next level and become a stronger force for making radical, social change a living, vibrant reality.
In community and service,

Shanelle Matthews
Founder, Radical Communicators Network
RadComms Leadership Team
Marzena Zukowska, Hermelinda Cortés, Micky Jordan, Katrina Rogers, JD Davids, Ana Tellez, Chelsea Fuller, Bryce Fields, Shanelle Matthews
RadComms Fundraising Team
Virali Modi-Parekh, Maya Trabin, Zaineb Mohammed, Marzena Zukowska, JD Davids, Shanelle Matthews